"Young people will face the worst consequences …"
Isobel speaking at the Eco-Streets Party on the Butts Green at the end of July. She is a very active Ambassador with Young ACAN and Environmental Officer at Alton College
"We are living in a climate crisis where the government is not doing enough. It's extremely frustrating that, regarding one of the biggest problems we currently face, it fells very little is being done. However, there is a lot we can do on a community level and an individual basis. This action does matter and collectively we can make a difference.
"I used to feel incredibly anxious about the climate crisis, but getting involved as a Young Ambassador for ACAN and Environmental Officer at Alton College has really helped my mental health and it's been great to work with like-minded people. It is an issue I am incredibly passionate about and everyone should feel the same. We have a vast and beautiful planet and if everyone does their bit and looks after our local area, it will make a difference. It can feel overwhelming, but it doesn't have to be. ACAN has done a huge amount thanks to our wonderful leaders, who are constantly showing us the way forward.
"We have worked on many projects such as the pop-up thrift shop, the next one running on 23rd September, to encourage sustainable fashion. The recent schools conference to educate young people on the issues was attended by 12 schools.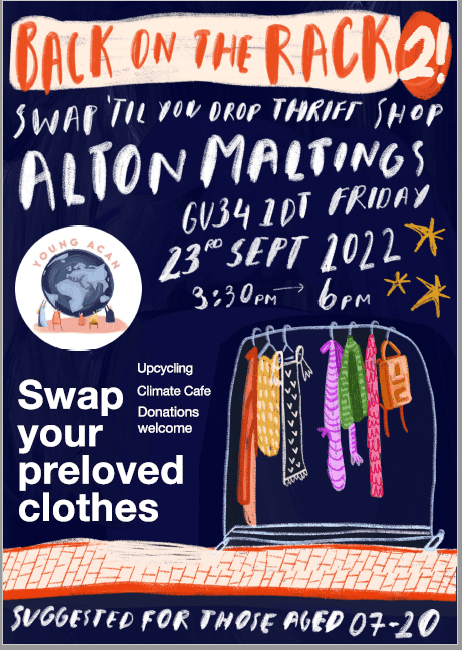 "So, please look at what you buy. Cut down on meat, avoid plastic and try thrifting and buying from charity shops. Get stuff locally or organically and don't buy what you don't really need. Re-use whenever you can. It's about changing habits and it does make a difference.
"This issue will affect everyone but young people will face the worst consequences. So even if you won't do it for yourself, do it for the next generation and our future.
"If you are looking to make a positive change, join Young ACAN, a youth movement working to empower young people and reclaim our future through activism.